TONY AWARD-WINNING PANEL TO JUDGE
Student Performances on 48th Anniversary of
Bucks County Playhouse
STUDENT THEATER FESTIVAL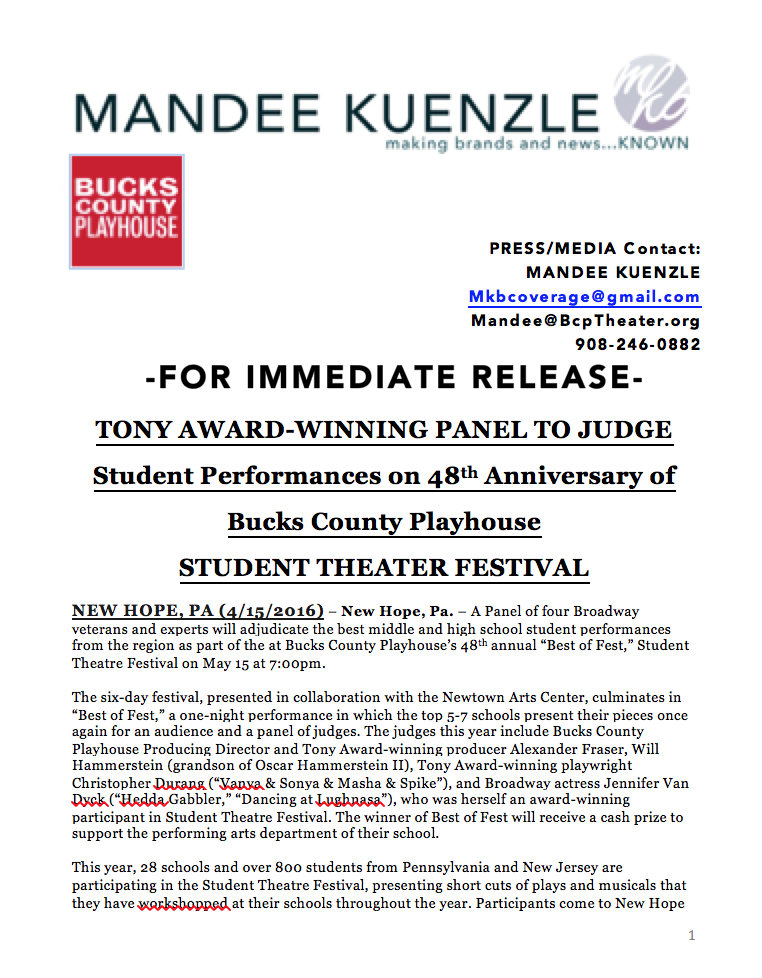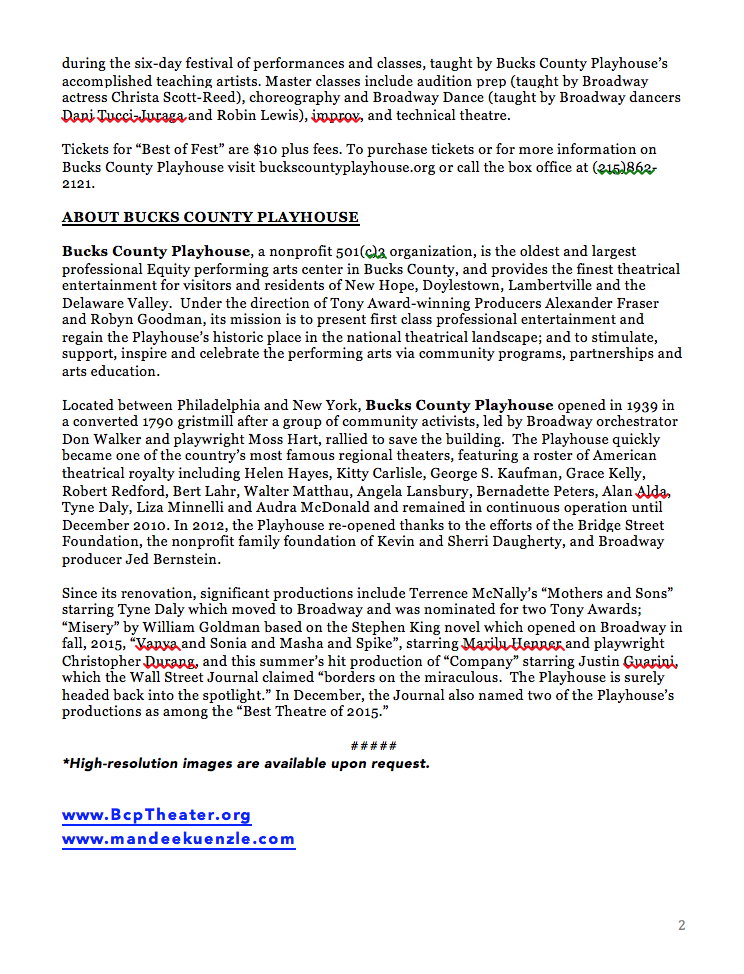 PRESS/MEDIA Contact:
MANDEE KUENZLE
-FOR IMMEDIATE RELEASE-
NEW HOPE, PA (4/15/2016) – New Hope, Pa. – A Panel of four Broadway veterans and experts will adjudicate the best middle and high school student performances from the region as part of the at Bucks County Playhouse's 48th annual "Best of Fest," Student Theatre Festival on May 15 at 7:00pm.
The six-day festival, presented in collaboration with the Newtown Arts Center, culminates in "Best of Fest," a one-night performance in which the top 5-7 schools present their pieces once again for an audience and a panel of judges. The judges this year include Bucks County Playhouse Producing Director and Tony Award-winning producer Alexander Fraser, Will Hammerstein (grandson of Oscar Hammerstein II), Tony Award-winning playwright Christopher Durang ("Vanya & Sonya & Masha & Spike"), and Broadway actress Jennifer Van Dyck ("Hedda Gabbler," "Dancing at Lughnasa"), who was herself an award-winning participant in Student Theatre Festival. The winner of Best of Fest will receive a cash prize to support the performing arts department of their school.
This year, 28 schools and over 800 students from Pennsylvania and New Jersey are participating in the Student Theatre Festival, presenting short cuts of plays and musicals that they have workshopped at their schools throughout the year. Participants come to New Hope during the six-day festival of performances and classes, taught by Bucks County Playhouse's accomplished teaching artists. Master classes include audition prep (taught by Broadway actress Christa Scott-Reed), choreography and Broadway Dance (taught by Broadway dancers Dani Tucci-Juraga and Robin Lewis), improv, and technical theatre.
Tickets for "Best of Fest" are $10 plus fees. To purchase tickets or for more information on Bucks County Playhouse visit buckscountyplayhouse.org or call the box office at (215)862-2121.
ABOUT BUCKS COUNTY PLAYHOUSE
Bucks County Playhouse, a nonprofit 501(c)3 organization, is the oldest and largest professional Equity performing arts center in Bucks County, and provides the finest theatrical entertainment for visitors and residents of New Hope, Doylestown, Lambertville and the Delaware Valley. Under the direction of Tony Award-winning Producers Alexander Fraser and Robyn Goodman, its mission is to present first class professional entertainment and regain the Playhouse's historic place in the national theatrical landscape; and to stimulate, support, inspire and celebrate the performing arts via community programs, partnerships and arts education.
Located between Philadelphia and New York, Bucks County Playhouse opened in 1939 in a converted 1790 gristmill after a group of community activists, led by Broadway orchestrator Don Walker and playwright Moss Hart, rallied to save the building. The Playhouse quickly became one of the country's most famous regional theaters, featuring a roster of American theatrical royalty including Helen Hayes, Kitty Carlisle, George S. Kaufman, Grace Kelly, Robert Redford, Bert Lahr, Walter Matthau, Angela Lansbury, Bernadette Peters, Alan Alda, Tyne Daly, Liza Minnelli and Audra McDonald and remained in continuous operation until December 2010. In 2012, the Playhouse re-opened thanks to the efforts of the Bridge Street Foundation, the nonprofit family foundation of Kevin and Sherri Daugherty, and Broadway producer Jed Bernstein.
Since its renovation, significant productions include Terrence McNally's "Mothers and Sons" starring Tyne Daly which moved to Broadway and was nominated for two Tony Awards; "Misery" by William Goldman based on the Stephen King novel which opened on Broadway in fall, 2015, "Vanya and Sonia and Masha and Spike", starring Marilu Henner and playwright Christopher Durang, and this summer's hit production of "Company" starring Justin Guarini, which the Wall Street Journal claimed "borders on the miraculous. The Playhouse is surely headed back into the spotlight." In December, the Journal also named two of the Playhouse's productions as among the "Best Theatre of 2015."
#####