In to new, creative theatrical works & thinking?? Well don't miss this opportunity to see amazing, emerging talent! Here's the release on the event below & the Facebook event page is here to learn more too & stay up to date on developments (contributed photo below from 2015's festival): https://www.facebook.com/events/1697671817142612/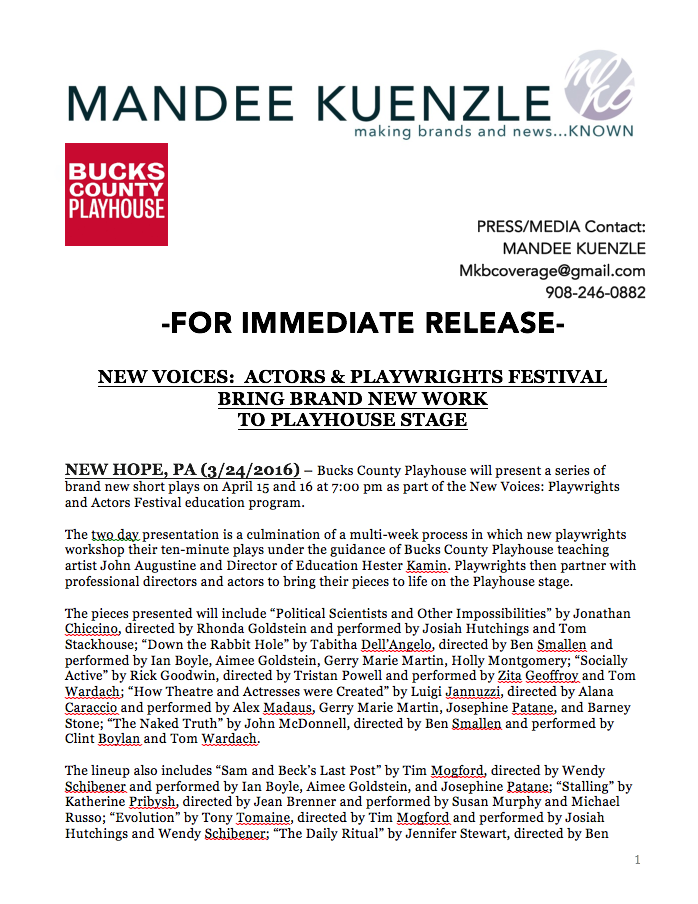 PRESS/MEDIA Contact:
MANDEE KUENZLE
Mkbcoverage@gmail.com
908-246-0882
-FOR IMMEDIATE RELEASE-
NEW VOICES: ACTORS & PLAYWRIGHTS FESTIVAL
BRING BRAND NEW WORK
TO PLAYHOUSE STAGE
NEW HOPE, PA (3/24/2016) – Bucks County Playhouse will present a series of brand new short plays on April 15 and 16 at 7:00 pm as part of the New Voices: Playwrights and Actors Festival education program.
The two day presentation is a culmination of a multi-week process in which new playwrights workshop their ten-minute plays under the guidance of Bucks County Playhouse teaching artist John Augustine and Director of Education Hester Kamin. Playwrights then partner with professional directors and actors to bring their pieces to life on the Playhouse stage.
The pieces presented will include "Political Scientists and Other Impossibilities" by Jonathan Chiccino, directed by Rhonda Goldstein and performed by Josiah Hutchings and Tom Stackhouse; "Down the Rabbit Hole" by Tabitha Dell'Angelo, directed by Ben Smallen and performed by Ian Boyle, Aimee Goldstein, Gerry Marie Martin, Holly Montgomery; "Socially Active" by Rick Goodwin, directed by Tristan Powell and performed by Zita Geoffroy and Tom Wardach; "How Theatre and Actresses were Created" by Luigi Jannuzzi, directed by Alana Caraccio and performed by Alex Madaus, Gerry Marie Martin, Josephine Patane, and Barney Stone; "The Naked Truth" by John McDonnell, directed by Ben Smallen and performed by Clint Boylan and Tom Wardach.
The lineup also includes "Sam and Beck's Last Post" by Tim Mogford, directed by Wendy Schibener and performed by Ian Boyle, Aimee Goldstein, and Josephine Patane; "Stalling" by Katherine Pribysh, directed by Jean Brenner and performed by Susan Murphy and Michael Russo; "Evolution" by Tony Tomaine, directed by Tim Mogford and performed by Josiah Hutchings and Wendy Schibener; "The Daily Ritual" by Jennifer Stewart, directed by Ben Smallen and performed by Bill Brenner, Linda Kenyon, and Liz Powers; "The Heist" by C. Todd White, directed by Joe McKernan and performed by Mark Collmer and Tom Stackhouse.
This program is partially funded by Up River Productions, Inc., a 501(c)(3) tax-exempt organization with the intent of developing media to promote and advocate equality, diversity and inclusion. Their signature project is "Embraceable You," which consists of an award-winning documentary, a book and a CD. For additional information visit www.upriverproductions.com.
Tickets for "New Voices: Playwrights and Actors Festival" are $12 plus fees. To purchase tickets or for more information on Bucks County Playhouse visit buckscountyplayhouse.org or call the box office at (215)862-2121.
ABOUT BUCKS COUNTY PLAYHOUSE
Bucks County Playhouse, a nonprofit 501(c)3 organization, is the oldest and largest professional Equity performing arts center in Bucks County, and provides the finest theatrical entertainment for visitors and residents of New Hope, Doylestown, Lambertville and the Delaware Valley. Under the direction of Tony Award-winning Producers Alexander Fraser and Robyn Goodman, its mission is to present first class professional entertainment and regain the Playhouse's historic place in the national theatrical landscape; and to stimulate, support, inspire and celebrate the performing arts via community programs, partnerships and arts education.
Located between Philadelphia and New York, Bucks County Playhouse opened in 1939 in a converted 1790 gristmill after a group of community activists, led by Broadway orchestrator Don Walker and playwright Moss Hart, rallied to save the building. The Playhouse quickly became one of the country's most famous regional theaters, featuring a roster of American theatrical royalty including Helen Hayes, Kitty Carlisle, George S. Kaufman, Grace Kelly, Robert Redford, Bert Lahr, Walter Matthau, Angela Lansbury, Bernadette Peters, Alan Alda, Tyne Daly, Liza Minnelli and Audra McDonald and remained in continuous operation until December 2010. In 2012, the Playhouse re-opened thanks to the efforts of the Bridge Street Foundation, the nonprofit family foundation of Kevin and Sherri Daugherty, and Broadway producer Jed Bernstein.
Since its renovation, significant productions include Terrence McNally's "Mothers and Sons" starring Tyne Daly which moved to Broadway and was nominated for two Tony Awards; "Misery" by William Goldman based on the Stephen King novel which opens on Broadway in fall, 2015, "Vanya and Sonia and Masha and Spike", starring Marilu Henner and playwright Christopher Durang, and this summer's hit production of "Company" starring Justin Guarini, which the Wall Street Journal claimed "borders on the miraculous. The Playhouse is surely headed back into the spotlight."
#####
PRESS CONTACT:
Bucks County Playhouse
Mandee Kuenzle
908.246.0882
*High-resolution images are available upon request.